Charming Station
Dear Embroidery Friends,
In 2007, a wonderful graphic company named Design Stitch gave away a set of free redwork snowman drawings. Since I received them for free, I thought I would pass them on as free designs. Once these were done, I bought a second set of designs from Design Stitch in order to continue making free designs and a lot of fun has happened since.
On July 1, 2017, we reached 500 (!) free redwork snowmen! The entire collection of 500 redwork snowmen with all of the coordinating text is now available on a CD to make it easier to store and find the designs.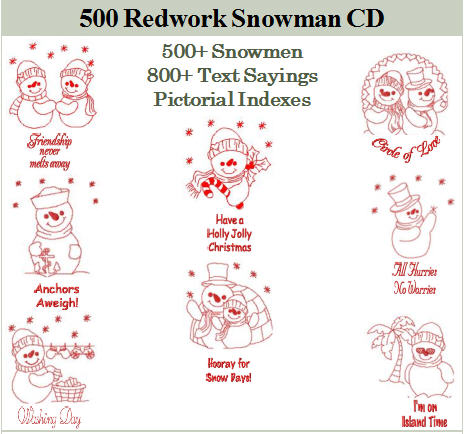 Because we had more than one snowman in some posts and more than one text design in others, there are over 1300 designs on this disk along with several indexes to help you find the exact one you need! And, because a CD can hold so much, there are 11 formats all on one disk (please click the link below to see a list of all of the formats)!
In addition to all of the holiday and regular postings, this CD includes all the special series that we did over the years:
Salute to the military

Days of the week

Months of the year

Hanukkah designs

Occupations

I'd rather be...
This is a great way to store the entire set plus some extra goodies on the disk! Postage is included in the price!