Oma's Place
Click Here to Visit Oma's Place
Do you or somebody you know have difficulty falling asleep? Place this reassuring scripture on a pillow or in the center of a quilt as a reminder of God's watchcare.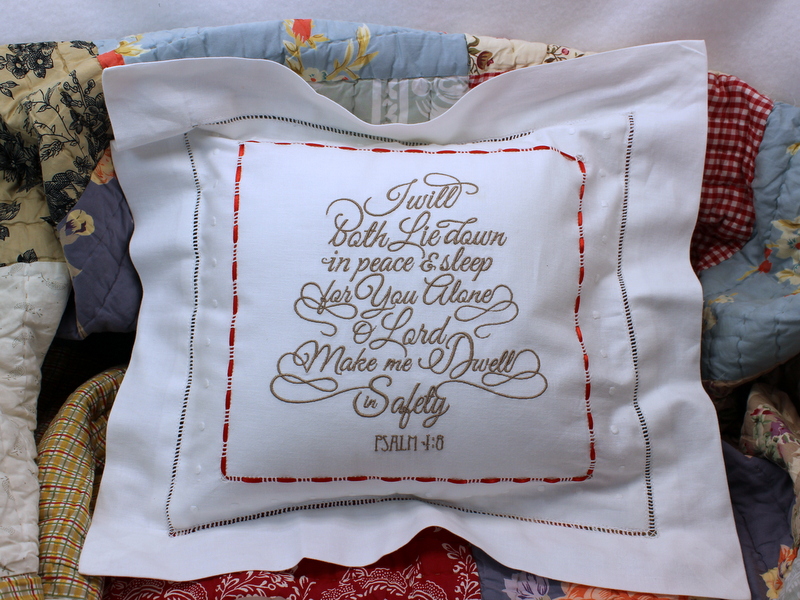 https://www.omasplace.com/ed/psalm-48-single-7x7/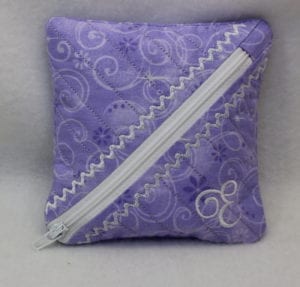 Diagonally Zippered Bag
This diagonally zippered bag for the 5×7 hoops is completely done in 2 hoopings. No additional sewing machine or handstitching required. The back and front are both quilted and the zipper is inserted while in the hoop and has a zipper stop at the top. This makes for easy access to the contents. The bag is fully lined, no seams are visible on the inside. There is a small pocket in the back. The little bag can be used for many things. It can serve as a small sewing kit, a first aid kit, and sanitary napkins fit into it perfectly. Comes with very through instructions in pdf format; many photos are part of this write up.
Place a monogram in the lower or top corner. Shown is our 1" Samantha Monogram (not included with this purchase).
https://www.omasplace.com/ed/diagonally-zippered-bag/